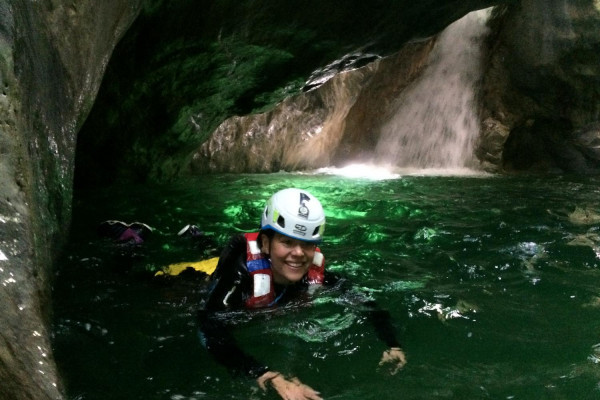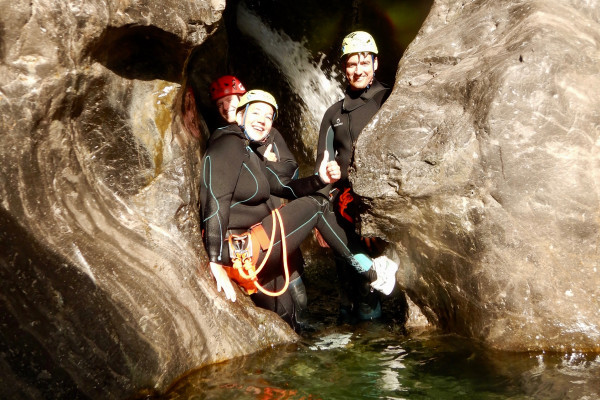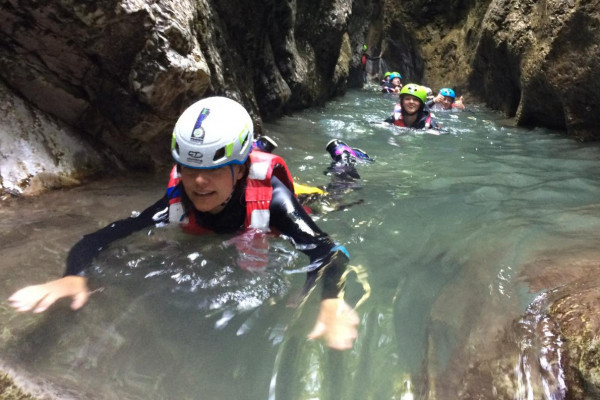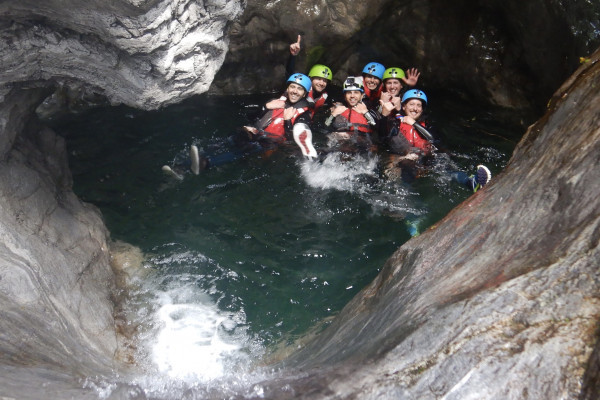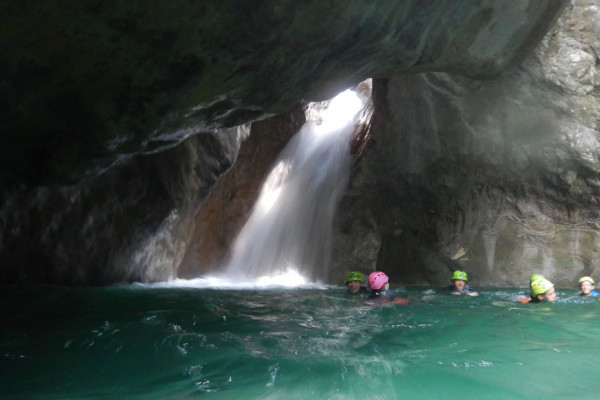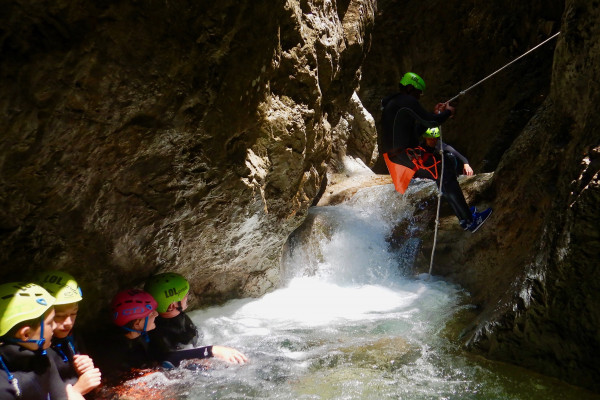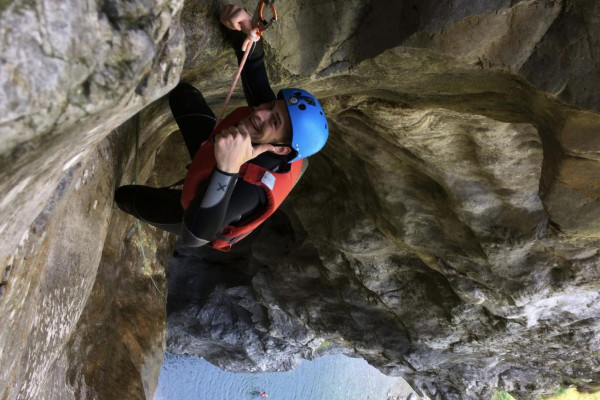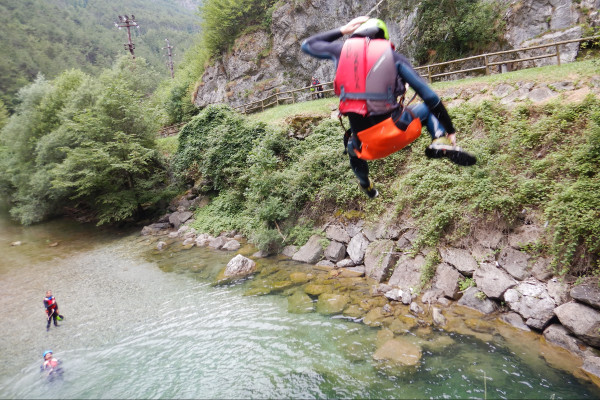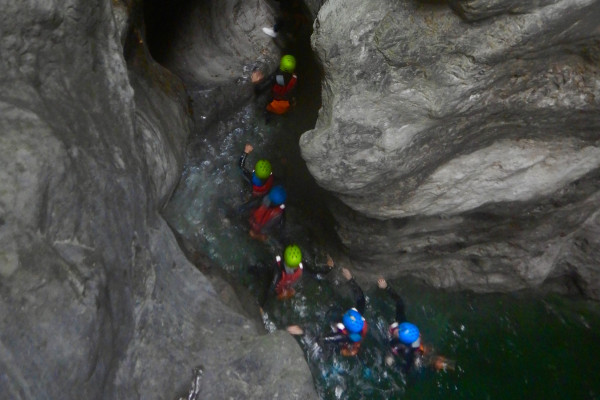 This fantastic canyon has been created by water during centuries, it offers a lot of natural slides, jumps and 50m-high vertical descents. With LiveOutdoorLife #lolgarda you may just run the risk of having much fun!
fun
adrenaline
mooie natuur
Inbegrepen

Mountain guide and certified canyoning guide, 5mm neoprene suit and socks, life vest, helmet, harness.

Niet inbegrepen

Transfer (we can provide transfer from Riva del Garda to the activity place)

Duur
4 Uren
Mee te nemen

Swimsuit, sneakers or hiking shoes to wet, towel

Deelnemer
min 2

Gratis voor toeschouwers
Categorieën
Canyoning, Actie & adrenaline
Talen
Frans, Engels, Italiaans, Spaans, Duits, Nederlands
Openingsuren
Verzoeken

Proper relationship height-weight, good physical conditions, underwater-friendly, no dizziness

Belangrijke informatie

Canyoning is an activity that most of the time you are in the water, descending natural courses with all it beauty and danger.During the path there are slides, waterfalls from where the guide will abseil you, cliffs from where you can jump or not,( jumps are not mandatory, you do them only if you wish and feel secure, children can jump only if the parents allows them to do it or the person who has the children in charge, the decision of doing a jump is personal, by the moment you decide to jump, you are responsible for any injuries or else what can happen by taking the decision to jump, in case children jump the parents/family are responsible)During the tour there are small lakes, and paths where we walk, it could be very slippery and disconnected;If you do Canyoning wrong it is more risky than it already is;There are many risks and they can end also really bad such as: hypothermia, injuries, drowning etc..LOLgarda will give you all the information and give you the whole technical equipment such as:neoprene suite, canyoning harness, helmet, life jacket, and neoprene socks, not shoes; in case you are on holiday just with sandals let us know;You will be accompanied by a Mountain Guide with Canyoning specialisation.Under 18 you must be accompanied by an adult, that takes the responsibility of the child that takes part on the tour.LOLgarda is not responsabile if during the tour something natural happens such as falling trees or rocks or any other natural event that can cause something to persons or objects.THE GUIDEhis decisions can't be discussedit's the only person allowed to take decisions for the entire grouphe will abseil youhe will tell you how and where to jumphe will give you the right information to do this activity in a safe wayin case that one or more members of the group taking part on the activity, don't wan't to listen or do not do what the guide says, the guide can decide to end the tour for the whole group or just them, cause it is to risky for everybody.he reserves the right to postpone or cancel the activity due to bad weather conditions or lower number of participants.once the activity is started there will not be the possibility to go backwards, the only way is to finish the canyon and sometimes there are some emergency exitsIf the customer doesn't show up or doesn't take part at the activity there will be no refunds.15 minutes max delate after that time the guide will start with the persons that are there or cancel the activity and there will not be refund for whom that are late.Before starting the activity there will be a briefing, where we will explain the canyoning rules;if you have any problems (panic attacks, some physical problems, diabetes or other things), please let us know this will let you still take part, but it is important to know so that we can react in the right way in case something happens.Canyoning is an activity that everybody can do with good physical conditions and has a good confidence with water;In case that the activity is cancelled for bad weather conditions or other causes,(LOLgarda decide to cancel for safety reasons) you will get a voucher from the same amount valid a year, to use for the same or an other activity;Buying this ticket,you have read and taken note of what has been written; It is really important after you have booked to leave a phone contact, please send us a msg in case you didn't put a number during your reservation at 000393285486497 with your name, date, time and name of the activity so in case we need it we can comunicate on time some changing, in case there are some;
Locatie van het gebeuren
When you drive from Riva del Garda our centre will be at your right side 100m before the street that brings you to Tremalzo, if you come from Tremalzo than it is 100m after at your left side. IF YOU NEED TRANSFER PLEASE CONTACT US TO ARRANGE IT
Canyoning & Outdoor Centre LOLgarda
Via Ampola, 3, 38067 Ledro TN, Italia
for free at the outdoor centre
lago d'ampola
Aanbiedingen van
LOLgarda by LiveOutdoorLife
38067 - Trentino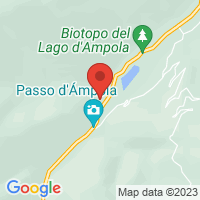 16 beoordelingen
| | |
| --- | --- |
| Totale waardering | |
| Prijs/ prestatie | |
| Pretfactor | |
Bella esperienza!
Finalmente una bella attività degna di nota!!! Non le solite escursioni deludenti dove non ti fanno provare del brivido.
Unico consiglio per l'organizzatore, considerato il costo abbastanza elevato, di procedere un pò più lentamente durante il percorso per godersi a pieno l'esperienza e i magnifici canyon.
Da rifare
van Italy op 22-08-2022
grazie mille del suo consiglio
Excellent!
Good level of adrenaline and very nice scenery. Will do something similar if I go back to Lake Garda. Highly recommended
Super guide also!
van Lars op 10-08-2022
thANK YOU SO MUCH WE WILL BE HAPPY TO WELCOME YOU NEXT TIME
Wow
Esperienza entusiasmante
van Federico Ceresini op 03-08-2022
grazie per il tuo WOW a presto per nuove esperienze